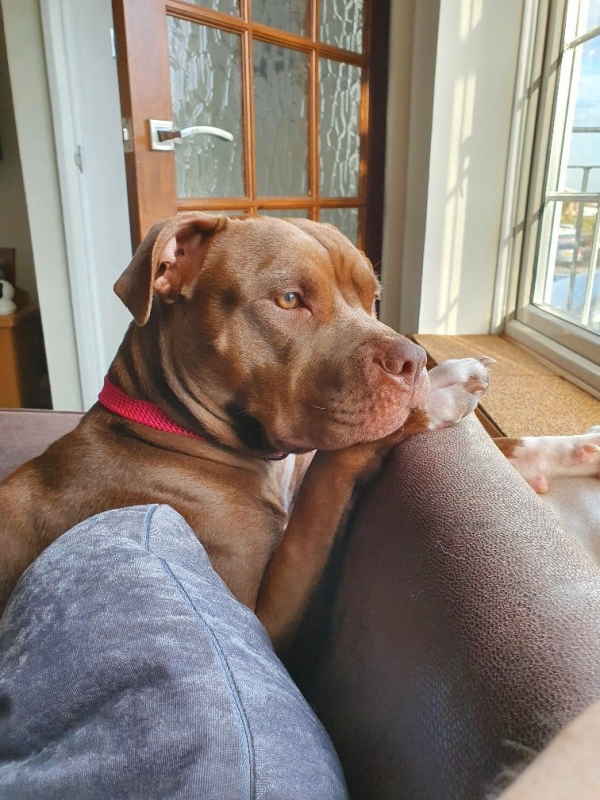 Hello, everyone! My name is Jadie and I am a beautiful 20 month old female Staffordshire Bull Terrier Cross. My journey into rescue has been a sad one. I came into the care of SEDR/NHAR after my former owners' 'friend' kicked me so hard that he broke my leg and bruised my uterus.
I underwent surgery to repair the fracture and was then signed over to the vet as he didn't want to pay the bill. To add insult to injury, he told the vet that the 'friend' had bought him a new puppy!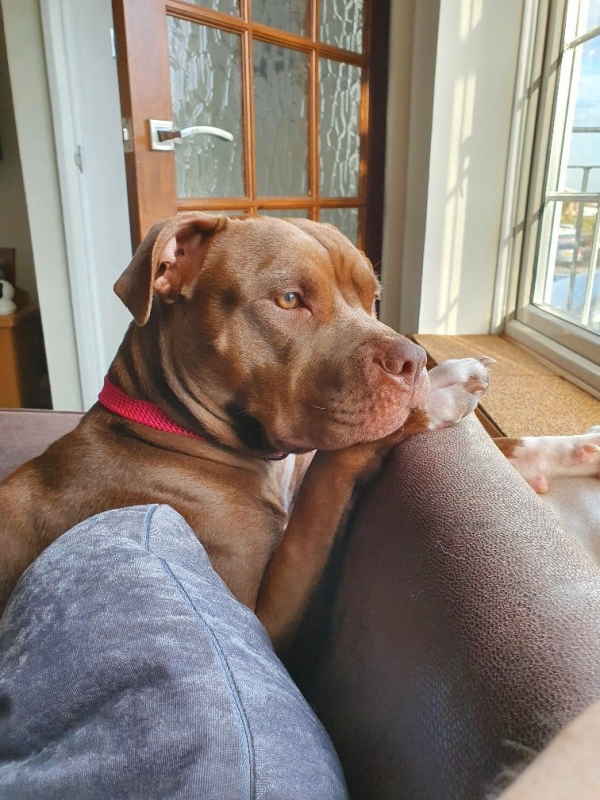 My rescue friends say it is clear that I came from a violent, abusive home and whilst my physical wounds have healed, the psychological scars still exist. Therefore, I am going to need a very experienced and committed home to help me heal those scars.
I will need an experienced owner who has worked with nervous dogs before and will take control of situations I find difficult (so that I do not feel the need to take control of them myself). The areas in which I need help include:
I am fearful and anxious of new people coming into my home and so measures need to be in place to prevent me charging towards them whilst barking. I have not bitten, but this can be intimidating for new people and I am learning how to receive people calmly (full details of how this is done will be passed onto new owners).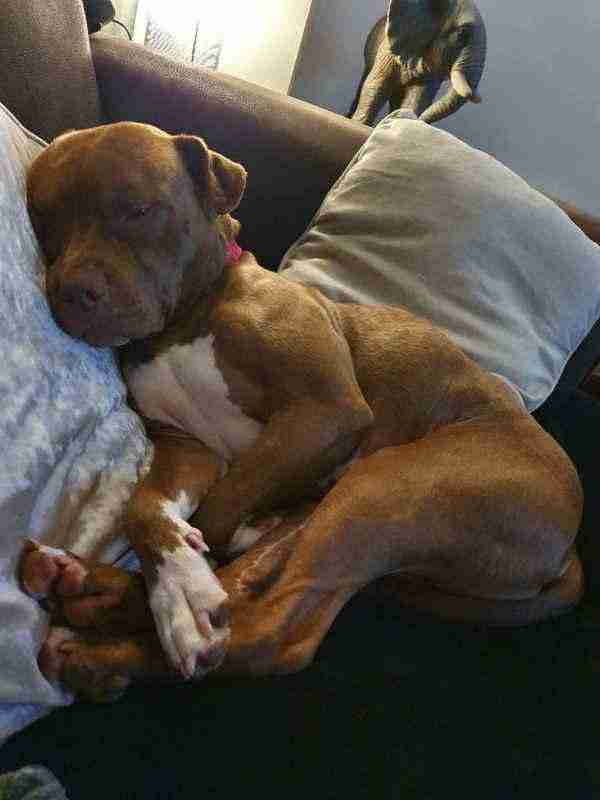 I used to bark at everyone on walks but with the help of my foster family, I bark at about one in every ten people now. There does not appear to be any pattern as to who I bark at, but I will bark at people who try to approach me or suddenly startle me. For this reason, it is highly-advisable that I wear suitable colour-coded attire when on walks, such as a red 'caution' lead or vest. It is also advisable that I am walked either in open spaces, avoiding alleyways or blind corners, or at quiet times.
I cannot live with dogs in the home as I became too much of a cowbag in a foster home with a resident bitch. However, in time, I may be able to pass dogs calmly on walks with consistent work. Potential owners must realise that I will never be the type of dog you can take to a pub for a Sunday lunch, but you can help make our walks much more enjoyable.
When I see dogs on walks, I will sit and lie down, stubbornly refusing to move out of the way unless I am bribed with fresh chicken! If the dogs are at a reasonable distance, I will stay in this position. However, if they get too close, I will lunge and cry. Whilst my rescue friends do believe that with the right, calm dogs, I may be able to interact more closely in time, this is not going to be an overnight process: it will take time and patience (and it may not happen at all). However, the right family will not place huge expectations on me and will let me find my paws in my own time.
Ideally, my rescue friends would prefer a rural home for me where open-spaced walks are close by and I do not have to travel: this is because I am not the best traveller! I do get anxious in the car and drool like a tap. My foster parents have started to try and acclimatise me to car journeys again and I can currently get in the car, take treats, reverse out of the drive and get a few metres forward. The next progression will be a short journey down the road.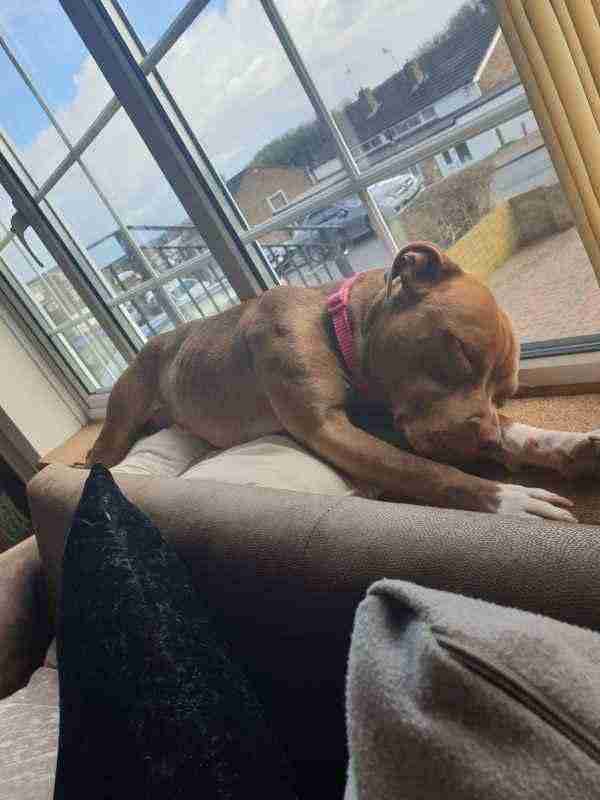 Additionally, you must not shout at me as I get very scared by raised voices due to my past experiences. I also can be a little fearful around some household routines such as bin emptying, hoovering, and closed doors. However, the foster family have developed ways to overcome my associated anxieties and these will be discussed with a potential owner.
However, despite the fact that I need a lot of help, I have made great progress with my fosterers and they say that I have improved vastly since I first came to their home.
I am told that I am clever girl who, with repetition, learns quickly. My foster parents are currently working with a professional trainer and I am making good progress on my ever-increasing repertoire of commands. I really enjoy being focused on good things, so ongoing, fun training will be really beneficial to me (and will help to build my relationship with my new owner/s).
I also adore cuddles with my trusted people so expect lots of love once I have learnt to trust you! I am very partial to topping up my tan in the garden. Bikini season is coming, so make sure you get your towel on the sun bed before I do!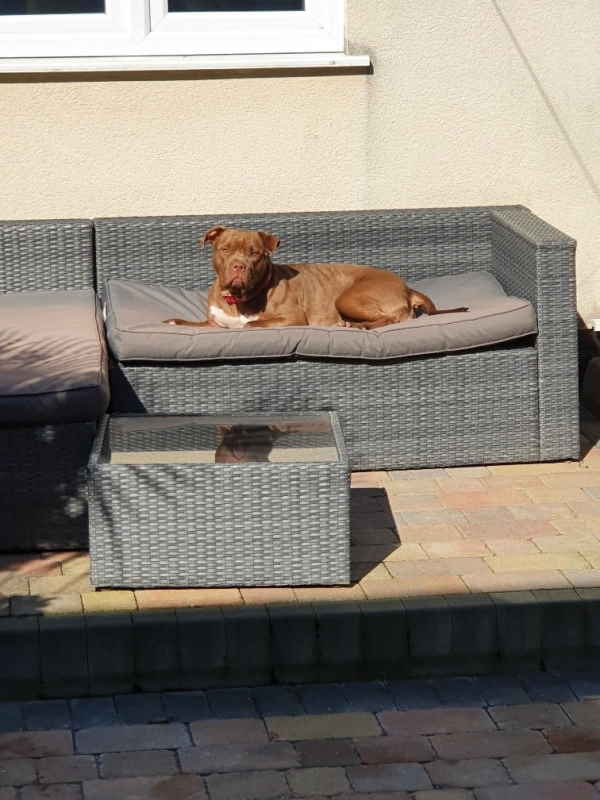 When I am at home and I am alone with my foster parents, I am extremely chilled out and love to snooze on the sofa! I can be left alone for 3-4 hours with no separation anxiety or destructive behaviour. I am very excited to see my foster family when they get home and I am like a little shadow at times (which my foster parents say is very cute!!).
I am generally very clean in the house, although I have had the odd mishap and any new owner must expect that to happen once I am finding my paws in my new environment.
So, as you can see, I have some mental trauma and I'm not going to be a dog who slots into family life easily: I am not for the faint-hearted. However, with the right, experienced home who is prepared to take on the 'Jadie challenge', they will be rewarded with the most loving and loyal girl ever.