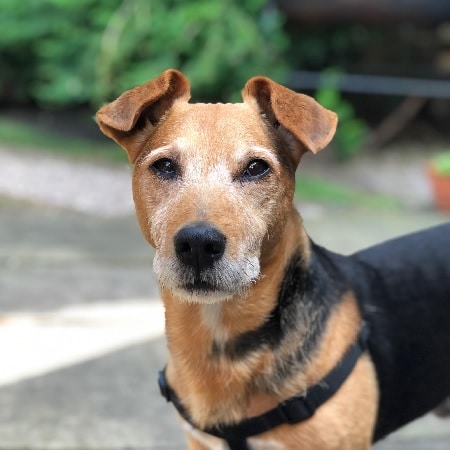 Baxter is a 12 year old male Jack Russell Terrier cross Patterdale Terrier. This handsome dude has that certain extra something that we are calling the BaXter factor! He is a very cute chap who is in an Oldies Club foster home near Northwich, Cheshire, waiting for someone to offer him a permanent home.
Baxter took 8 – 10 weeks to settle in foster and he is a much happier dog now. Initially he barked at everything and had to be in the same room as his carers all the time; he would not be left alone. But in the last month he seems to have completely adapted to his new surroundings and routine. He is happy to be in another room, or spend time in the garden on his own. He is not as clingy.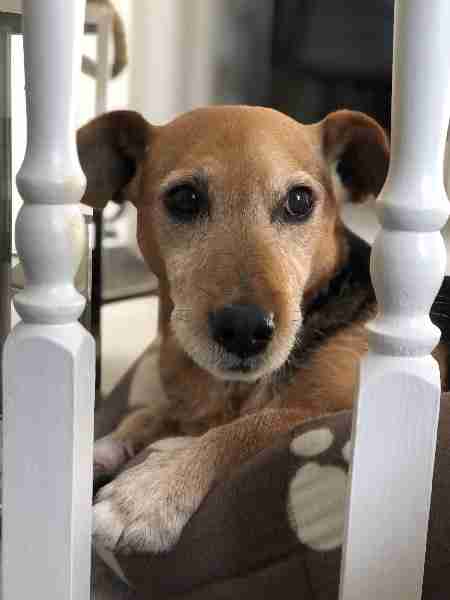 His carers have gradually built up the length of time they have left Baxter, from 10 -15 minutes, to half an hour, to an hour, and so on. He now trusts them and knows they will come back and has recently been OK when left for 4 hours. As long as he can snuggle on his bed he is fine, and he has never messed in the house when left. Despite this, Baxter wouldn't be happy living with people who go out to work as he is such an active, loving little dog. He will flourish being around people for most the time.
Initially Baxter didn't seem to know how to behave around other dogs and would bark at them and try to mount them. He has calmed down a bit, and no longer barks at them, but is still very amorous but not aggressive. If he sees a dog on the other side of the road he will ignore it, but if they are on the same side or in front, he will do his very best to get to them.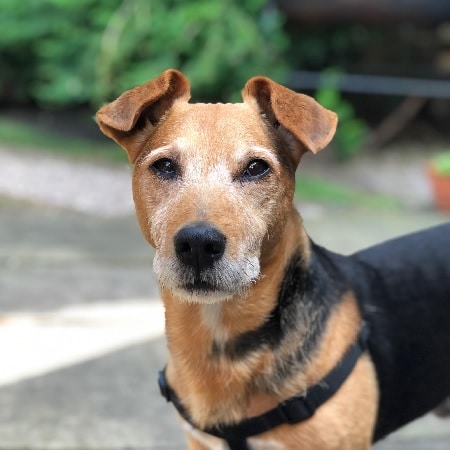 If he sees a cat in the garden, Baxter will go after it. He is a terrier and wants to chase them. He also wouldn't suit a home with animals such as rabbits or guinea pigs.
Baxter is very good with children, though would a bit boisterous for very small ones. He should be fine to live with kind children over the age of 8. He loves walking. Will play fetch but on his terms. Loves snuggling up in his bed and definitely loves cuddles and snuggling up with his people. He didn't arrive with any toys and doesn't seem to have any interest in them.
A family where someone is at home during some or most of the day and is able to give him decent walks each day, not just a few minutes down the road or round the block. An active retired couple or a family with older children would be good. He likes being around people and has been great with his foster carers' friends and family when they have visited.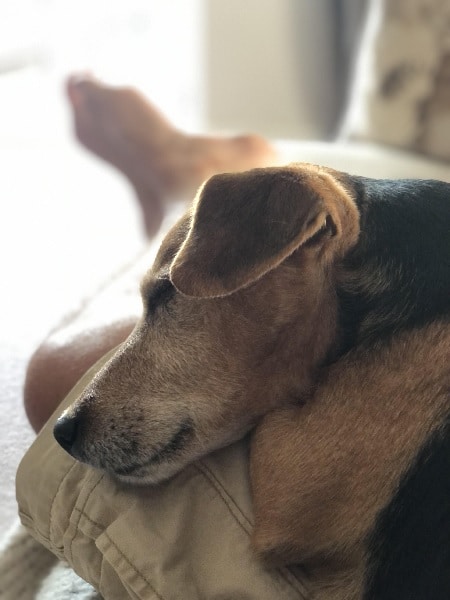 Baxter hasn't yet been neutered as he has just had a dental and the vet advised waiting a while, especially as this will help while he gains confidence around other dogs. Baxter will need to be neutered once he has settled at his new home and Oldies Club will cover the cost of this. He must be kept away from unneutered female dogs in the meantime. He has been vaccinated, microchipped, wormed and flea treated.
Baxter seems to have allergies which have become more noticeable with the onset of summer.
He scratches a lot so is having Piriton and being washed with a stop scratch shampoo. He nibbles his fur and paws at times which seems to be more a habit than a health problem. He is prone to sickness bouts and has been to the vets because he couldn't hold down food or water. They treated this with an anti-sickness jab which was fast working. He is sick sometimes after he has eaten and it seems to be because he eats too quickly as he loves his food and will eat anything you give him. He is very good at taking tablets.