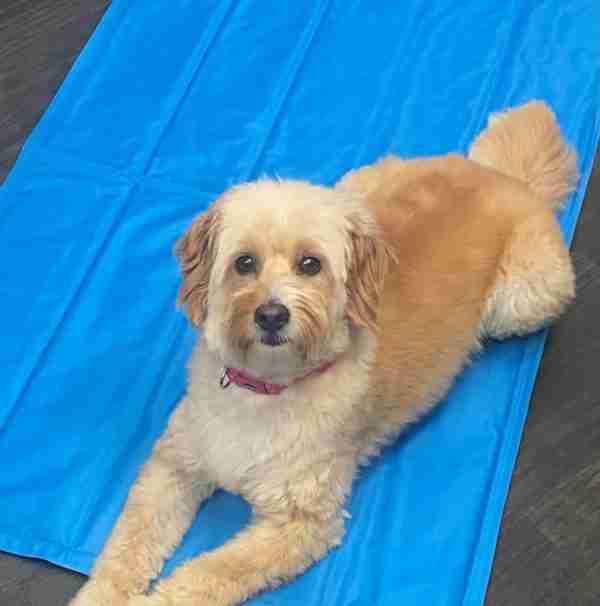 Holly is a 4 year old female Cockapoo. She is spayed, vaccinated, microchipped, flea and worm treated and will be rehomed with 5 weeks free pet insurance. Unfortunately this is the second time that Holly has found herself in the care of Wonky Pets. Originally she was handed to us when she was just a year old after being passed from home to home where she got more and more anxious and bit in every home. Sadly just recently Holly was again signed into rescue due to her bite history. She needs a calm, patient and experienced owner who has the time and experience to bring out the best in this lovely girl.
Holly is very nervous around new people and it takes her a while until she feels that she can trust anyone. You need to be completely hands off with her initially until she chooses to interact with you (meaning days not hours), however, once she has gained that trust, she is very much a lovable little character who enjoys exploring and being with her humans, but equally loves her own space.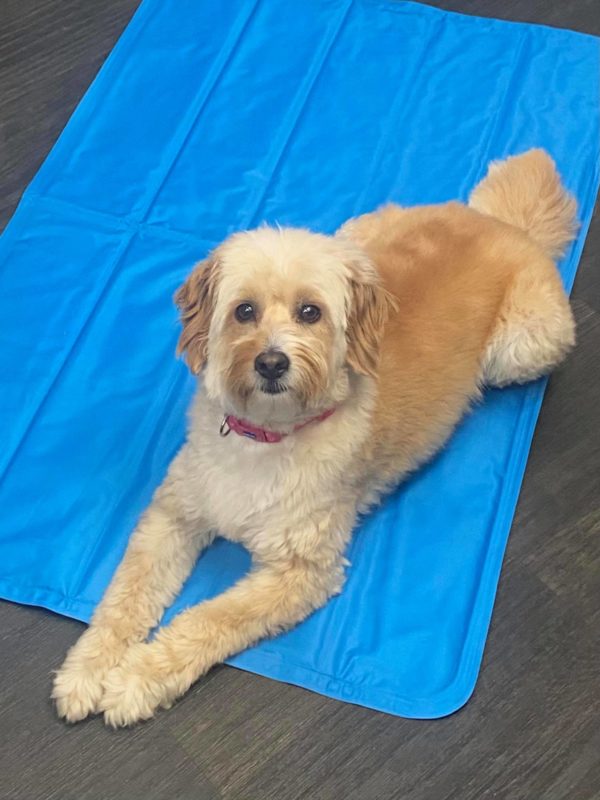 Holly adores playing with toys. Balls are her absolute favourite, she'll play fetch all day long if you have the time and the energy to keep up with her! When you're having a rest from throwing the ball, she will quite happily entertain herself with rope and rubber toys, however, they usually end up in a million pieces! Once she's had enough of the toys, she'll take herself off to the bin for a piece of tissue paper instead! Although she rips the tissue paper up, her fosterers have noticed that on a couple of occasions, she has actually eaten the tissue. This is something that our fosterers are currently working on by distracting her away from the tissue so that the tissue can be removed safely without losing any fingers.
It is evident that Holly has some resource guarding issues, however during her time with the fosterers she has only become aggressive around very high value natural treats like pigs ears and bones, and this has been to warn the other dogs away. Holly does respond well to a very firm 'no' by moving away and taking herself off to a quieter spot. There was been occasions where Holly has been startled or stroked when she hasn't wanted it, and she has become aggressive. She does give plenty of warnings before she attempts to bite, she will show her teeth and give a high pitched growl. It is important that her new owners understand this behaviour completely and can carry on managing it with positive training techniques going forward. Challenging a nervous dog will only result in a bite.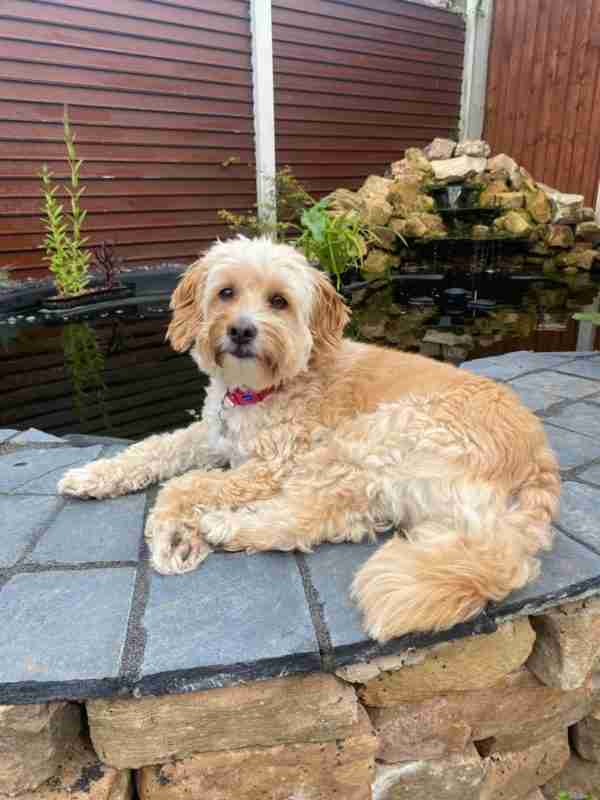 It is very important that Holly is given an area or two around the home that are specifically for her. She feels much more secure when she has her own space, especially when she's tired. The rule that the fosterers have followed is 'when she goes to her space, leave her alone'. Disturbing her while she's resting or wanting to be alone will only result in one thing… a bite! She currently sleeps upstairs in her fosterers bedroom but in her own bed in a crate. Holly loves this space away from the other dogs and when it's bed time she will run upstairs, straight into her crate and sit and wait to be zipped in before she settles down for the night.
Holly has some anxieties with being groomed, at least until she feels comfortable around the person grooming her. As she has a coat that needs to be brushed and clipped regularly, this is something that Holly has to get used to. Her fosterers have been working hard an desensitising her to the grooming processes and her new owners will have to be willing to put in the time to brushing her regularly at home, however it's recommended that she's given time to settle in first and find trust in her new owners first.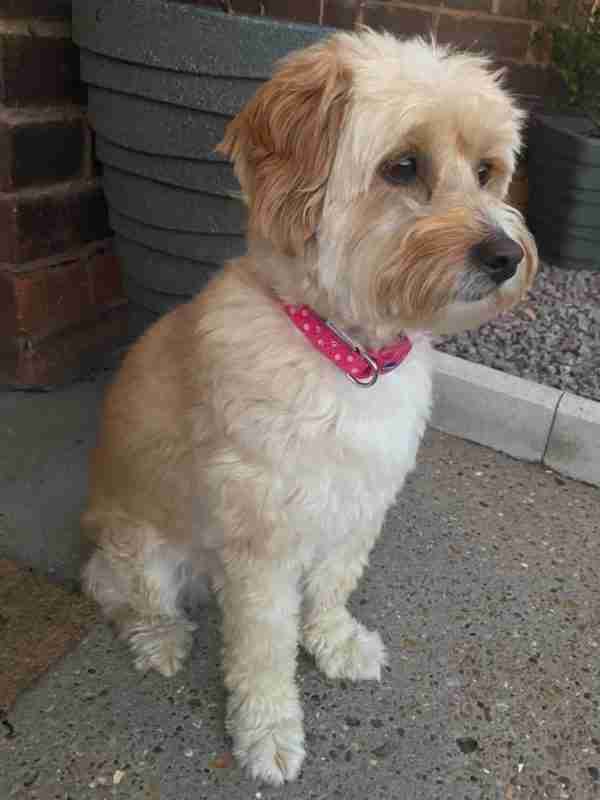 Holly loves exploring in the garden, and gets herself into the smallest of spaces. She walks well on the lead and has a good recall. She will need a home who can provide her with lots of exercise, either on or off the lead. Holly doesn't just need physical exercise, she also needs mental stimulation. She loves 'finding things' and foraging about. She is ok to be left alone for a short time but wouldn't be happy being left for long periods of time without any stimulation.
As cute and fluffy as Holly is, she isn't a dog who appreciates cuddles. She much prefers to lay on the back of the sofa rather than on your knee or by your side. Once she gains trust in you, she will climb up you and give you a kiss, but as soon as she's had enough she will put her tail down and begin to look for a 'way out'. At this point, she needs to be left alone otherwise she will snap and show her teeth.
Holly gets on much better with the male dog in the home, rather than the female. She will often growl at the female when she walks by her, but is quite happy for the male dog to be close to her. Although her fosterers haven't witnessed it, it was reported from her previous owners that she launchers herself at other dogs. This is something that her new owners need to be aware of, and will be willing to work with her on it should this behaviour return in her new home. We feel that she would be suited to a household where there is a stronger neutered male dog around who can show her the way forward.
Unfortunately due to her bite history she cannot be rehomed with children or where there are regular visiting small children, she will suit a home with just or two very experienced adults.
We are looking for a very dog savvy home who can demonstrate that they understand dog body language, behaviours and most of all will not put Holly under so much pressure or in situations where she feels that she has no alternative to react and bite. If you're looking for a little cute, fluffy dog who you can cuddle and are thinking she won't bite me because I'll love her, then this girl isn't for you.
She is currently being fostered in Mansfield, Notts but can be rehomed further afield subject to homecheck and donation of £250.
If you have the relevant experience and are willing to put in the right training, time and effort with this girl then please email us telling us all about your home offer and contact details to