Iker is a 4 year old male Labrador. Beautiful Iker is a chocolate-coloured Labrador boy, who is a very good dog with unbelievable good behaviour and he is very friendly with people, children and other dogs. Iker is absolutely fine in the car, he loves his walks, sometimes he pulls little bit to get to juicy smells. Like all Labradors, he loves to play in the water!
Iker has a well-mannered nature, with a balanced temperament, gentle, friendly and confident. He is very docile, extremely affectionate, his real desire is to do something for his owner and thus deserves a caress. In short, he is desperate to please! He is very easy to train, as he is extremely intelligent.
The family who gave him up to the shelter had him since he was a puppy, but poor boy has always been kept on a tiny terrace measuring 1 metre by 1 metre, which is no good for any dog. He was left alone, under the sun, because he " loses its hair" and it's not good for the baby.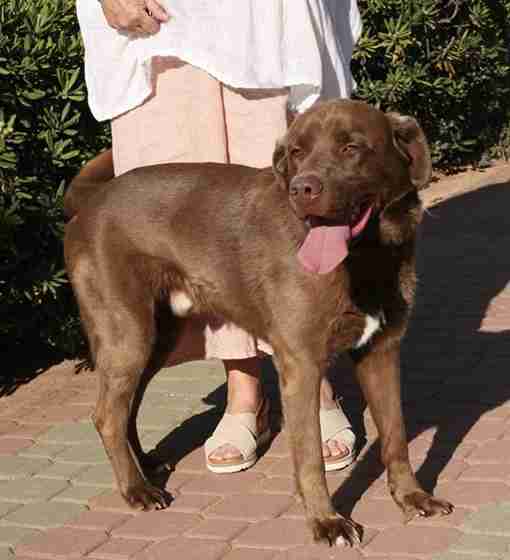 So now we have him in rescue he is the most happiest of dogs, in a big space, running and playing with others dogs, so now, after a good run and a good play, he is a much more calm. He needs a owner who can give him exercise and who will give him time and attention. Iker loves and needs contact, relationships and sharing the life with his family, until the last breath! Not tested with children but we think over 12s will be fine. Not tested with cats.
Foster Report: He's been here 4 days and has settled in and loves the freedom and being involved in everyday things we take for granted – very nice boy.
Current location is in a foster home in Spain can travel to the UK end August. Adoption Fee : £570 – to be paid direct to the Spanish rescue to cover new, excessive, extra EU travel costs, via UK bank account.
All our adoptions are subject to successful homechecks. There is now a deposit for all homechecks of £25 which is deducted from the adoption fee.