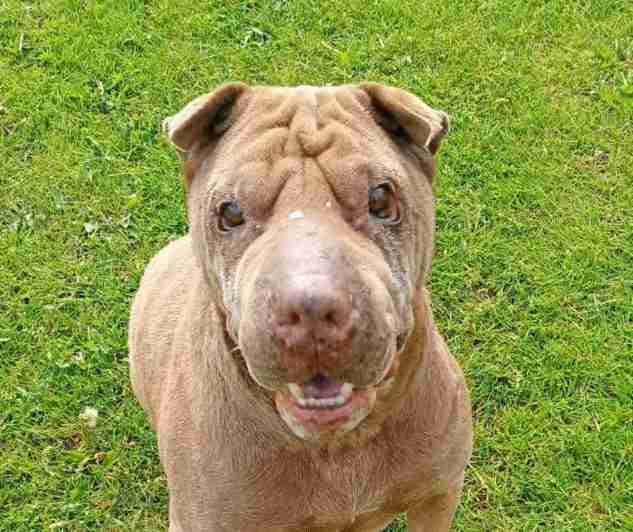 Mollie is a 9 1/2 year old chocolate female Shar Pei, she is spayed, vaccinated and microchipped, flea and wormed up to date and will be rehomed with 5 weeks free pet insurance. Poor Mollie has the worst luck in the world, she initially came into our rescue around 5 years ago, she found a great home where she was for a few years until tragically her owner passed away.
She came back to us and went to live with people who adopted from us before but sadly after about a year she needed to come back as she and one of the other dogs weren't getting on. We found her an amazing home with another of our former adopters who sadly has become very unwell and devastatingly for both her and Mollie can no longer care for her, we are all absolutely gutted.
Mollie has been the only dog in her last home after previously living in large packs, being an only dog has really suited her and she has absolutely blossomed and looks the best we have ever seen her look, she has gained lots of weight, her typical yeasty Shar Pei skin and ears are now well under control (ears need regular cleaning with the cleaner she would come with and must stay on) and is is doing great, the biggest issue Mollie has is she is sadly now urine incontinent a lot of the time.
She is on a natural remedy called Leak No More as the alternative medications didnt seem to suit her, she will happy wear doggy nappies in the house and if she goes out into the garden or for plenty of walks where she can empty her bladder frequently she does have days with no accidents but it does seem to come and go (she has no UTI this has all been checked).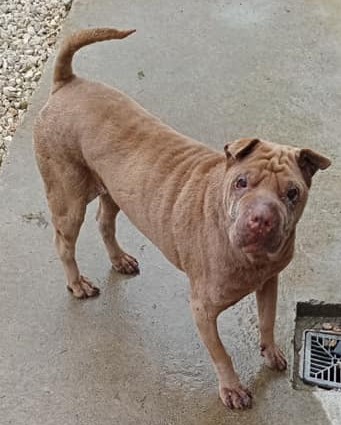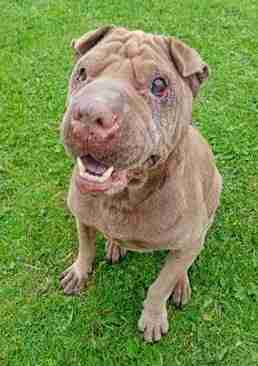 We know its a big ask for someone to take on a dog that needs this extra care but in return she is the sweetest most loving little dinky shar pei you could wish to meet. Mollie is very people friendly and absolutely loves to cuddle up with you for a snuggle. She absolutely loves her walks and has been going out 3 times a day in her last home, she travels well in the car so great for going out exploring different places with her. She mostly just ignores other dogs out and about but since enjoying being the only dog in the home she would rather other dogs just kept our of her space I think.
Mollie is absolutely fine with sensible, calm dog savvy visiting children 5yr plus but she has never lived permanently with kids so any resident children would need to be older 12 years plus. She cannot live with cats or small furries.
Mollie has so much love to give and has a heartbreaking story, if you feel you have the ability and commitment to offer her her true forever home so she never has to move again please do get in touch.
Being fostered in South Derbyshire but can be rehomed further afield subject to homecheck. There is no fixed donation for this girl, finding the right forever home is more important.
If you feel you fit the bill for this lovely girl please email us telling us all about your home offer and contact details.